There are lots of similarities on raising a girl and a boy...and lots of differences, too. Here are some of my own observations and thoughts...on raising and enjoying my little Nerd and my Papa Bear:)
Niamh is a complete mix of Phil and I. She is talkative (Phil), a total jokester (Phil again:), a worrier, and a sweetheart (those last two are me:). She loves rollercoasters like her Dad. Wakes up grumpy like Mama. I'd say she has a lot of family influences as well...She is very honest (thank you, Mom), a wild party-girl (that's my sisters, for sure), and a Bible-loving, Reese-peanut butter-cup-eating girl (Mom-mom:). Before I had children, I never really thought
they
would be the people I would want to be like...but so many times, I look at Niamh and think,
gosh...I wish I were more like you.
She is a breath of fresh air...a sparkly princess...ready for anything.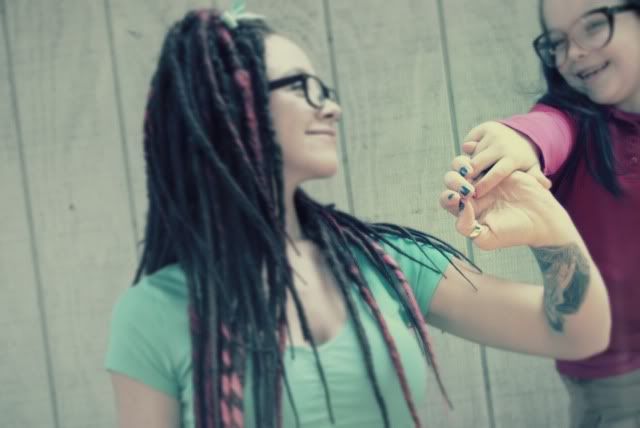 When she was born, her hair was dark with blonde tips...like an angel:) She was so tiny. So pretty; the prettiest little wafe I'd ever seen. Delicate and beautiful. She could sing her ABC's when she was 14 months. Talked my ear off since she was a year and a half old. Super picky eater. Loves sweets. *LOVES* them. I have a hard time leaving her home for the girl nights at my sister's. Kinda feel like,
why would I leave my best friend home?
...ya know:). I love her to pieces.
We had Philly right after Niamh turned two. When they brought him to me, I instantly fell in love (I was put under for the birth). I remember his little pig nose. He didn't look anything like Niamh when he was born. But he was perfect. And my labor took a turn for the worst, so I was really so happy to hold him and know he was okay.
Philly is Phil's shadow, and he is very much like his dad. He's the most loving person in the world. And then there is this side of him striving to be a big boy. Trying to impress Dad...Wants to hang out with Pop. Wrestles with his uncles. He is all boy. And I am officially his girlfriend:). He thinks we are going to get married someday...I tell him when his foot is bigger than mine, he can propose to me:). He is very shy around girls...will talk to total strangers...and says the sweetest things.
Phil and I realized quick that boys and girls develop and hit milestones at different ages...or, at least ours do:). Philly didn't talk in sentences until after he was 2. He walked a little later than Niamh, too...He doesn't like to sit and color. Or do crafts. But the boy has a love for music. And it's not really kid music. Like, he knows good, classic songs by heart. From Johnny Cash to Queen to Credence Clearwater Revival...He just loves singing and remembers lyrics really well. He is super athletic, too. Our ticket to future box seats at the Yankee games:)...
It's fun to see how your kids grow up the same in some ways, different in others. We love them both exactly the same amount, but in very different ways. Niamh pushes me to be better...to grow as a woman, so I can show her a good example. She keeps me on my toes. And she puts her dad in his place:)...She is the only one who can match him word for word in jokes and tricks. Philly, on the other hand brings out the softer side in his dad. Phil will spend hours playing with the child...and all it takes is some teary eyes to get him to play
just five more minutes
:). Philly makes us smile. A lot. He is my snuggler. And I must get 100 kisses a day from him. (Some girl is gonna
love
this boy someday.) Just the sweetest! He really completed our family.
Have you noticed differences in your own children...What are the special things about them that you cherish?...How do their personalities make you smile?...I'd love to hear!
Thanks for stopping by!...