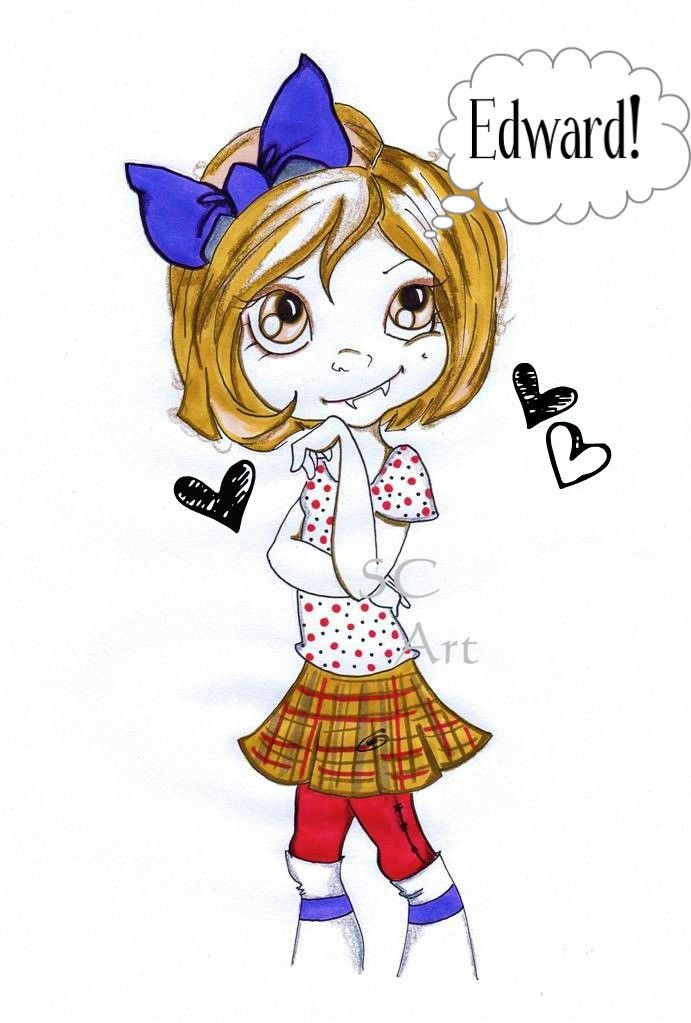 Have you gotten sucked into the Twilight Saga fan club?? I'm being completely honest when I say that I was never really interested in the whole vampire movie thing. Never read the books. Still haven't. Don't intend to. I was
not
on that bandwagon and
definitely not
picking a Team. Not me.
And then Niamh happened to be hanging out with my younger sister one night with
Twilight
on in the background. She came home in love. With a certain boy named Edward. Said sister gave her the movie for her birthday. (I know some parents might cringe at the thought of their child watching vampire movies; but Phil and I are okay with the movies so far...She knows which parts to turn her head. She is really good about that.) We watched the movie together one night. And then the next night. And then again. Are you getting the picture? She pushed me onto the Twilight wagon! Maybe threw me right up there-- I don't know, cuz I never saw it coming. And then, there I am, cheering on the bed with her the first time Edward comes onto the screen. (I'm so embarrassed to admit that.)
We went to the second movie in the theater. My sisters and Niamh, hooting and hollering (along with every other salivating chick) at the boy pulling off his shirt at ever opportunity. Think his name is Jacob. I'm not really into the whole wolf thing;). Anyways, I sat there quietly. Smirking. But, here is a tiny confession: I wanted to let out a little hollar, too. For the boy with the fangs. And...
I wore an Edward tee that night
. And I'm 31 years old. **Blushing**
So, while I'm a closet fan (holding that door handle tight as I can, lest anyone should try to open it and pull me and my Edward tee out for all to see)I admit that of the 75 billion hits that trailer has received on YouTube...Well, I account for maybe 12. Ah, okay, 17. And I am on Team Edward. Jacob kinda annoys me. I don't like that whole needy, pining boy thing. Although, if I have to watch a needy, pining guy, it's nice if he is a beef cake:).
And, in case you haven't stumbled upon it already, here is the video:). Thanks for reading the confessions of a closet Twilight fan. Please don't tell anybody;)...