Yesterday I sat in church. And, through the moments of holding a squirming boy and giving a certain seven year old girl the stink eye, found my heart truly moved by the sermon. I know this is not a religious blog...but part of who I am is anchored deeply in Jesus Christ. So, I'd like to share a little piece of what I learned yesterday-- because it really made me view my fears in a new Light.
I hate the feeling of fear. Ugh! It is a huge pet peeve of mine. I remember being in softball practice my senior year and telling myself during in-field practice,
Krista...keep your eye on the ball. And DO. NOT. FLINCH.
Well, I kept my eye on the ball--all the way down to the moment it hit me in the face, shattering my nose:). (And yeah, it was completely shattered into tiny pieces...Had to have surgery and everything!) But, looking back, I know I kept my head down. Granted, it might have been better to have looked away at that particular moment; but I feel a little satisfaction in knowing that I beat my fear. My natural instinct to avoid pain. And looked that sucker all the way into my face:). I kinda always wanted a good shiner anyways. And for the next two weeks I had
two
black eyes. (Even got to go to prom that way...
gorgeous
;)
Yesterday, one of our pastors spoke about fear, using this quote from
Lord of the Rings
:
Aragorn:
What do you fear, my lady?
Éowyn:
A cage.
To stay behind bars until use and old age accept them, and all chance of valor has gone beyond recall or desire.
Using the parable of the talents (
Matthew 25:14-30
), he spoke of how we often play it safe. Shrink back from our true potential. Never take a risk. All out of fear. And, using the quote above, he put it into crisp focus-- each of us having grown old, looking back on our youth, and thinking,
I missed the boat. I could have done great things...but my fears held me back. And now, because of age and weakness...it's too late.
That scared me.
God has given us all a lot to work with. Various talents and desires. Things on our hearts...goals, wishes, dreams. It got me thinking...the only thing holding me back is often myself. Who knows what God could do with me...if I just let Him. Stop burying the talents He gave me, having never really invested them in anything. I tend to be a very impatient person. It's often all or nothing for me. I don't like baby steps. I don't like
the process
. When I want to accomplish something, I want it right then. Here's my biggest fear-- small changes. Small goals. Small steps. But sometimes it's not about the broad but shallow waters of touching many lives...it's about deeply touching
one
.
I often struggle with my desire to be remembered-- to do something crazy awesome-- and my understanding that God's plan is not always about numbers or status or income or titles. It is about being a good mom. Leaving a legacy for my two kids. Being a good wife, daughter, sister, and friend. Taking risks. Stepping out of my comfort zone. And being okay with God's plan. Even if He only ever uses me right here. In my small town. In this (less than fabulous) state called Jersey:).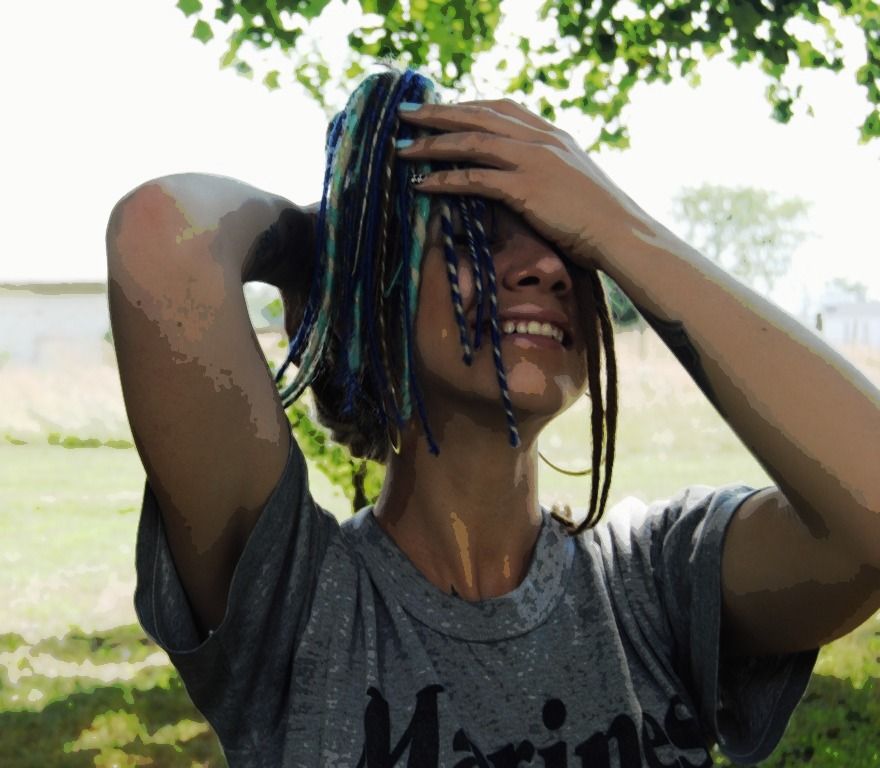 I'm really going to try and live by faith. Get rid of the bad fears...the ones that keep me feeling safe and comfy...but are really just the bars of a cage. A cage that stands between myself and a life where I invest myself and family in what matters most. So, if I need to get on a plane (HUGEST, HUGEST fear of mine), or speak in front of people (AHHHhhh!), or go on a missions trip to a far off place, or stay right here and work in my own community...whatever it is, I'm willing. And maybe a little scared. But, I'm gonna hold my ground. Keep my head (bowed) down. Keep my eye on the ball. It's a good feeling, even with a black eye or two, knowing you beat your fears. And kept your eye on the Prize:).
"But my righteous one will live by faith. And if he shrinks back, I will not be pleased with him."
Hebrews 10:38