Have you ever tried to explain a blog to someone who is not blog savvy? It is harder than it sounds. For a long time, I answered in a mumble-jumble of
well, um, it's kinda like, aaaaaa....hold on, let me think about this
. Yeah, not concise. Or interesting. Definitely not a pitch to
come read my blog
!
You don't even know how many times I started a blog. Made two posts. Erased the whole thing. Started again. Post. Erase. And so on. I was so nervous
to just write
that I never liked anything I wrote about. Then, when I started blogging here, I started to realize that this is
my place
. It is everything I make it and nothing I choose not to make it.
(double negative. sorry.)
That is when blogging became something I enjoyed. I really, really look forward to it each day. The world of writing is wide open-- and I can choose any topic. Any day. And, hopes are, someone will relate. Or smile. Even disagree. That is what I like most. Connecting in whatever way with people I may never meet in person, but now share a little of life's experiences with. It's rather lovely, I think.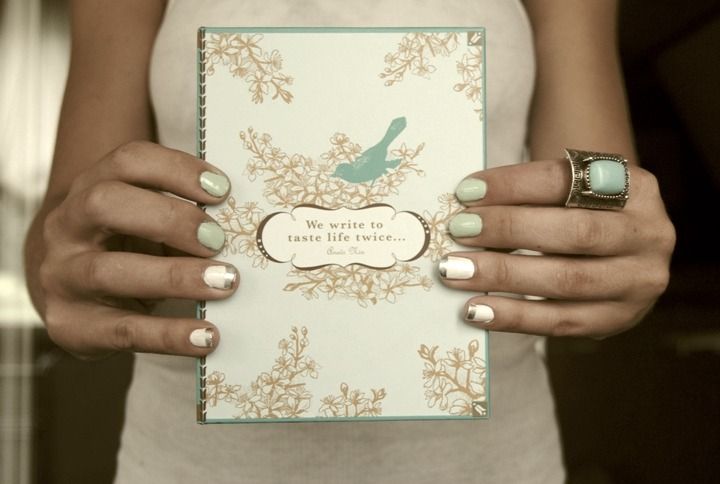 The other day in Target
(I'm in that store way to much. But so is every body else it seems. I run into the same people all the time. You know who you are:)
, I was looking for a little journal. A pretty one that I could tuck in my purse. Keep by my computer. Basically, carry everywhere. A journal to write ideas in right when they pop into my head
(blog ideas, book ideas, art ideas...they are all swirling around constantly throughout my day. In muh big ol' head:).
I've done this for a while, as do many other bloggers/crafty girls/writers. But my journals need replacing more often than they should...My purse is an evil abyss of trash and grossness that seems to ruin many of its own contents:). (Note: this is why you will never see a
What's in My Bag
post on here. You don't even want to know
. Truly
.) Anyways, I found this little bird journal. Knew right away it was meant for me. Because the quote on front put blogging in perfect context. "We write to taste life twice..."
~Anais Nin
It's a vehicle to re-live even the smallest moments of my day. In photos. And words. And share the things in life that are important and meaningful to me. It is why I love blogging. Really, it is a lovely part of my day.
On that note, I should have my new blog design up soon:). It is being designed by
Kaelah, from Little Chief Honeybee
. I love her style and artsy eye, so I'm really thrilled for the final design to be installed! Thank you to the girls who left questions on
this post
, too. Good questions-- got me thinking! I'll be working on them tonight:). And, I decided to change my header line to "writing to taste life twice". It's a little bit of a derivation from my journal quote, but summed up my feelings about this blog perfectly.
PS...
We are headed to

Washington DC

this weekend for some fun and learning (gonna hit up some museums!)...I am going to schedule my posts for the weekend before I leave. I'll

apologize

in advance if blogger is rude and decides not to post them:). He is

not always a nice guy

, you know. That blogger monster;).