Today my angel turned eight.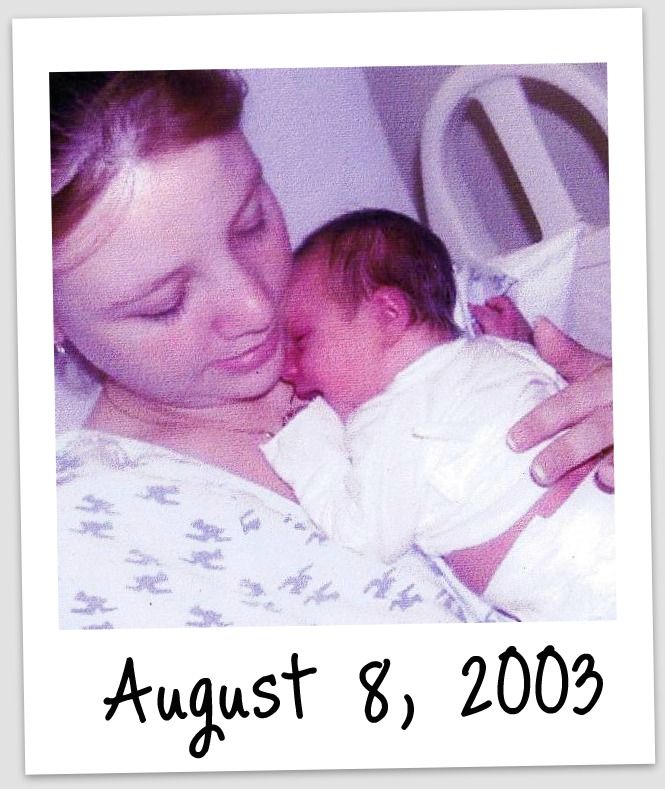 Isn't she the tiniest! There I am, eight whole years ago exactly. Holding my sweet muffin. I thought for sure she would weigh 25 pounds-- how else could I have gained almost 70lbs during my pregnancy:)? I remember feeling so shocked at how little she was. Six pounds, ten ounces. And perfectly beautiful.
I held her 24/7 in that hospital. Slept with her propped up in the crook of my arm. And then did the same at home. I knew it wasn't something recommended, keeping the baby in bed with me...but I just couldn't put her down:). She still loves to fall asleep with my arm under her neck. Me, too. It just feels like the world is right. It is my favorite way to fall asleep. Like nothing has changed. Nothing has, really. She is my baby girl. Forever.
She is my world.
She is all the best parts of the women I love.
And she is very much me. Exactly me at eight. Sometimes I look at her or listen to her talk...and think it's like I'm watching my old self. The same worries. The same fears. The same profound love for my family members. The same deep love for the Lord.
And she is Phil to a T. A total jokester. Great storyteller. Loyal as can be. And totally protective of her family.
She played with new toys today. Watched the Smurfs in the movie theater. Ate fish sticks for dinner. (That was the meal she chose out of every other meal in the world. Fish sticks!) Apple pie for dessert. She demanded we ask her wish, after she blew out her candles. So we did. Niamh said "
nothing
."
Everything she could wish for was already at the kitchen table.
How sweet is that?
Happy Birthday, Lovey. You are my world. I love you more than life.