Whew!! This weekend has been pretty busy!! Friday, Phil and I played a round fo golf at an actual course. It's the first time I've been on a golf course since I went with my dad 10+ years ago. (I nailed a goose right in the belly with a golf ball that trip. I decided golfing wasn't really working well for me after that.) Anyways, I've made my comeback. Scored a 63. Pretty amazing, huh??!! Well. Ugh. I'll be honest with ya. I only played 9 holes:P. But, as bad as it sounds, I played about half the holes adequately. I just had a few where I lost my mind. And my ball. I had so much fun with Phil, I can't wait to go again this week! Golfing buddies:).
We had a family wedding yesterday...(Congrats Chrissy and Dave!) everything was so beautiful, and it is always so fun to see Phil's extended family. Wish we lived closer to everyone!
Today, I'm getting artwork finished up, stamps completed, invitations ready to mail, and going to shop for some of Niamh's party supplies. My baby turns eight tomorrow, so she is on cloud nine right now. (Cloud 8 would have sounded better there. Is there a cloud eight? I suppose:). I can't wait to give her our presents tomorrow morning. Philly is about ready to burst. He picked her out three Monster High dolls that she has never even seen before. And, apparently, he gave her a hint. The word "monster." Thank you, Captain Obvious:). He is too cute and sweet!
Onto something fun for you...
I thought this would be the prefect time to offer one of my readers a thermos I had made. Niamh is having a book/nerd/school themed party this year, so this fits in perfect with our festivities:). I chose to try the custom made thermoses out with one of my newer pieces of art. Turned out really cute! It would be perfect to use in a lunchbox. In an office. Take it on a picnic with your favorite story. Whatever!! It keeps things piping hot or super chilly for 5+ hours. I think I want one for my tomato soup. I love tomato soup for lunch. Or a big glass of spicy V8. Yummy!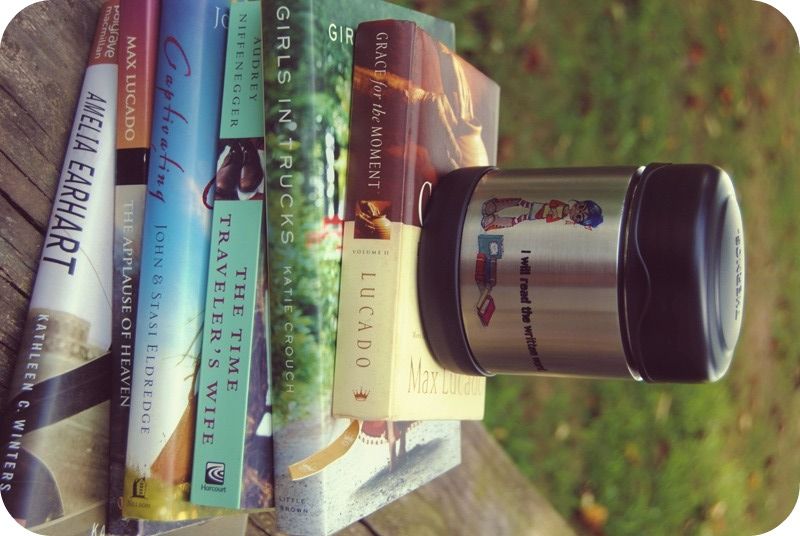 Here is how you can enter for a chance to win!!
1. Please be a
FOLLOWER.
2. Leave a comment with your favorite book of all time. And why. (Phil will like reading these comments-- he is a huge, huge reader. Goes through 3+ books a month. At least.)
If you would like more chances to win, here are some extra entry ideas:)
* Leave a link to a card/craft design you've made with one of my Sugar Nellie nerd stamps.
* Like the
Saturated Canary Facebook page
.
* Tweet: "Saturated Canary Thermos Giveaway!!" with a link back to my blog.
* Follow on Bloglovin'.
Please leave a separate comment for each entry to increase your chances. And I wanted to say thank you to all the readers who hopped over to the Little Miss Momma blog and voted for my headband entry!! I'm so excited to have your sweet votes!
If you'd like to see my entry and give me your vote still-- there is plenty of time. And I'd really, really appreciate it!
Just pop over
here
and look for my big ol' dreaded up head (#45). And click "
LIKE
" :).Thanks so much lovely readers!!
Have a lovely Sunday...and remember to leave a comment with your favorite book!:) The Thermos Giveaway is open until Friday, August 12, 12:00pm EST. Bye now!!