Today I want to share with you a beautiful tunnel scarf from my blogger pal, Tiffany. She is the crochet-er/knitter behind
That Girl in Tattoos
, the blog. You can find her pretty creations
*here*
(at her Etsy shop!). I like to visit Tiffany's blog (she had me at '
tattoos
';)-- she just seems very passionate about her craft and that is always inspiring!:) Plus-- she makes gorgeous things, and I like to peek at her newest creations!
I'm a total scarf girl. I love them!! My favorite style is the infinity scarf, and Tiffany's tunnel scarf is a nice variation to that style. I like the simple design, and how it scrunches and folds down so perfectly:). Her yarn is super-duper soft, and I know it will keep me cozy in the cooler weather just around the corner.
I picked out a deep purple/ burgundy color. I think it will look so cute with a denim jacket for fall! I am going to have to order another-- think I'll go with light pink this time! I am hooked!!:)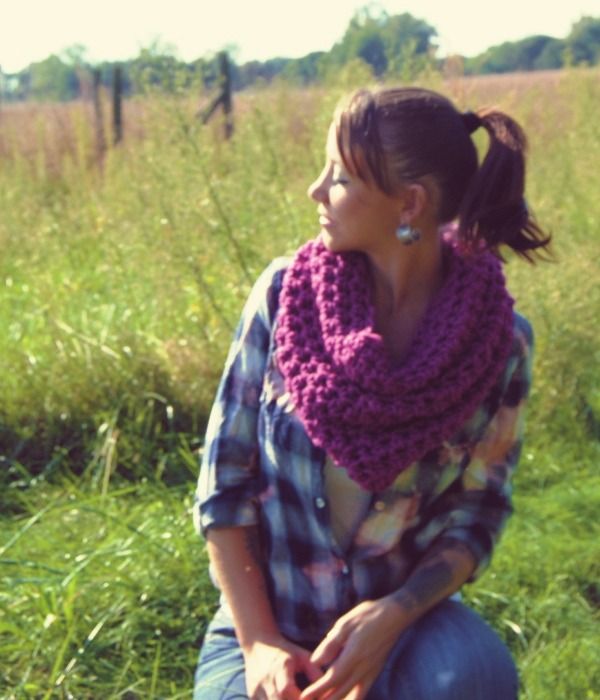 If you are looking for a perfect fall/ winter scarf, something not fussy or needing constant fixing, go check out
Tiffany's shop
!! It is filled with sweet, handmade creations:). They are unique, well made, and priced just right-- you'll want to pick up a couple!!(Oh...and excuse the hole-y men's tee. I have a thing about wearing guys t-shirts till they literally crumble off my body. I've got a whole drawer of them:)
Hope your Monday was superb:)!!