I believe in letting my children develop their own personal style.
I do pick outfits out most days...but sometimes they dress themselves. And sometimes they take the clothes I give them and add their own personal touch.
Like when Philly put his clothes on for church today. Sweater first. Thermal second. (I had to fix this personal touch...it was church after all:). And I am pretty sure he didn't get socks on before we left. Just sneaks.
And we have walked through stores with Niamh's face painted green (she went through a huge
Wizard of Oz
phase).
Pajamas have been street clothes. Especially the long, frilly princess ones. Niamh loves a gown. And a good twirl. For all to see.
I love when they are confident in their choice of clothing. Niamh feels pretty in her nightgowns. And Philly is happy to stuff his sweater into a thermal:). As shy as I am, I've always been one to wear what I like. So what if people don't
get
me. If it makes me feel happy, I'm gonna wear it. It makes me happy that both of them are the same way.
And so far, the kid's choices have worked out pretty good. Because people in the stores smile at me...with a look that says,
"how cute, they dressed themselves."
But I've never had to swallow my mommy pride and walk around with a growling werewolf. Until yesterday.
Yesterday people didn't really give me the
'awww, that's sweet'
look
.
Initially, they jumped. And looked rather scared. And then gave me the
Really?
eyes. Yes, fellow Target shoppers. He
really
wanted to be a warewolf yesterday. And he is the sweetest wolfie I ever met:). Sure, he needed to be told not to growl here and there throughout the afternoon...but he is all bark and no bite. I assure you:).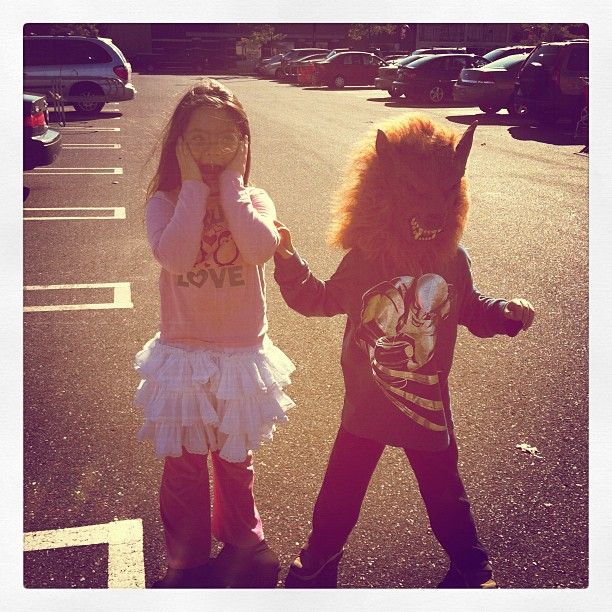 I'm not sure if you can tell from the photo, but Niamh has on these super big circle glasses. They totally look like Harry Potter ones. So I called her Harriet all day:). Harriet Potter and a werewolf. And I was wearing no makeup and messy workout clothes. We were a ragged bunch if there ever was one, but we got some good giggles out of it:).