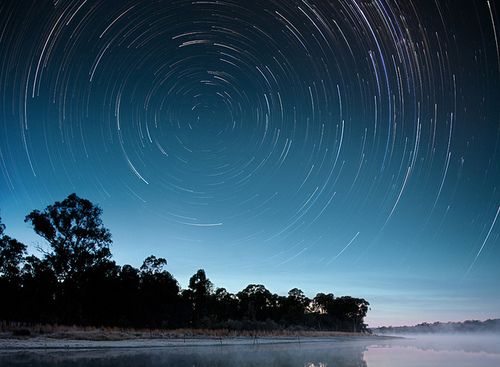 Yet you do not know what your life will be like tomorrow.
You are just
a vapor that appears for
a little while
James 4:14
In high school, I had a teacher that would give extra credit if we observed certain stars/planets in the night sky. It isn't too hard to walk outside at 8:30 at night-- so why extra credit you wonder? Well, most of the star clusters or planets we had to find seemed to make their way into my night sky in the wee morning hours. I woke up that year so many times between the hours of 2 and 4am to get extra credit. Although, the extra credit wasn't the whole reason. Probably not even the biggest reason. (I didn't need extra credit in science. It was kinda my thing)…
The mornings were cold. I'd roll out of my cozy bed and pull on my sneaks. And with my eyes half open, head outside. To stand in my nightgown. Freezing. And looking very chic. (sneakers and nightgowns are so lovely together, you know). I'd find my star or planet. I got good at it. My mom and dad even bought me a star gazing book for Christmas. (said book is in my living room now. i'm a little attached to it). But, after I'd done the homework part, I'd just stand. Under the night sky. Silence. And I'd think how small I must be.
You know, light travels fast. I mean, that is pretty much general knowledge. This speed is approximately 186,282 miles per second. And despite that speed, I'd stand in my yard and wonder what time I was viewing a star's light from. The universe is so huge, I could be seeing the light emitted by a star years ago. Like thousands and thousands of years ago. It made the night sky seem so far beyond what my brain could handle. And it made God feel even bigger than that. And to a girl in a tiny town, shivering in her pajamas, and not really seeing any further than science class that afternoon…well, that was a feeling that scared me. It terrified me. It thrilled me. And I loved it.
Fast forward a bunch of years (okay. not a
bunch
. i'd prefer 'handful'), and the kids and I sing this song most mornings on the way to school…Take a listen. Because it is really beautiful.
The
Bright and Morning Star
. It makes my eyes burn a little with tears each morning we listen to it. Venus is called the Morning Star (also, the Evening Star), because you can view it low in the sky right before the sun comes up (or goes down). I think it is the third brightest light in our sky, after the sun and moon. And it was my favorite 'extra credit' assignment. It is so beautiful and bright. And the song brings back that feeling of being in complete amazement of my Creator. The same thing I felt standing in my yard.
You know, I never really liked the Bible verse that likened my life to a vapor. It kinda bummed me out actually. I mean, I want to be important. Remembered. I want to be big. Leave an impact. And a vapor. Seriously, Lord?? It didn't leave me with a happy feeling. But, I think I was missing the point.
When you spread out everything before you. Your family history. The history you learned in school. The pages of all the science books you've had to study. The world that went before you. The world that will go on without you someday. The night sky. And a verse that tells you your life is like a vapor….you probably will feel pretty tiny. A lot like a vapor. A fading flower. A moment.
The point is not to take the wind out of our sails. It isn't to pop our dream bubbles. It isn't really to make us feel insignificant. Or just to prove how tiny we are.
The verse is revealing how

big

God's love is for us.
That He even listens to my prayers baffles me. That He holds this chick in the same hands that created the stars…that is kind of…well,
BIG
. I am important to Him. My struggles and triumphs, they matter. It's this feeling that still terrifies, scares, thrills me.
The things we did as kids…sometimes we just gotta go back for a second. Be simple and open and ready, like little kids are. Trust like a child. Believe in possibilities. Feel small-- but important. Feel treasured.
Even stand under a night sky.