Hello lovelies!! So. Have any of you braved the hoards of shoppers today?? I always skip on Black Friday. I know lots of people love the excitement of the sales and kick-off to the holiday season...but it is not really my cup of tea:). I prefer to shop online anyways...so Cyber Monday is more my thing:).
However, since it is the biggest shopping day of the year, figured I'd throw out a little freebie for ya:). Just until end of day Monday. (So, if you think you might want to play with it later-- download it now and save it:). I will be removing it from the link once Tuesday morning rolls around:).
It's a foldable Christmas greeting card. Kind of like a Christmas Valentine...you know, the ones that fold easy for kids):. It would be perfect for a daughter to hand out to all her little girlfriends at school. It can be decorated and fastened together in so many cute ways...even makes a super cute gift tag for your Christmas pressies!!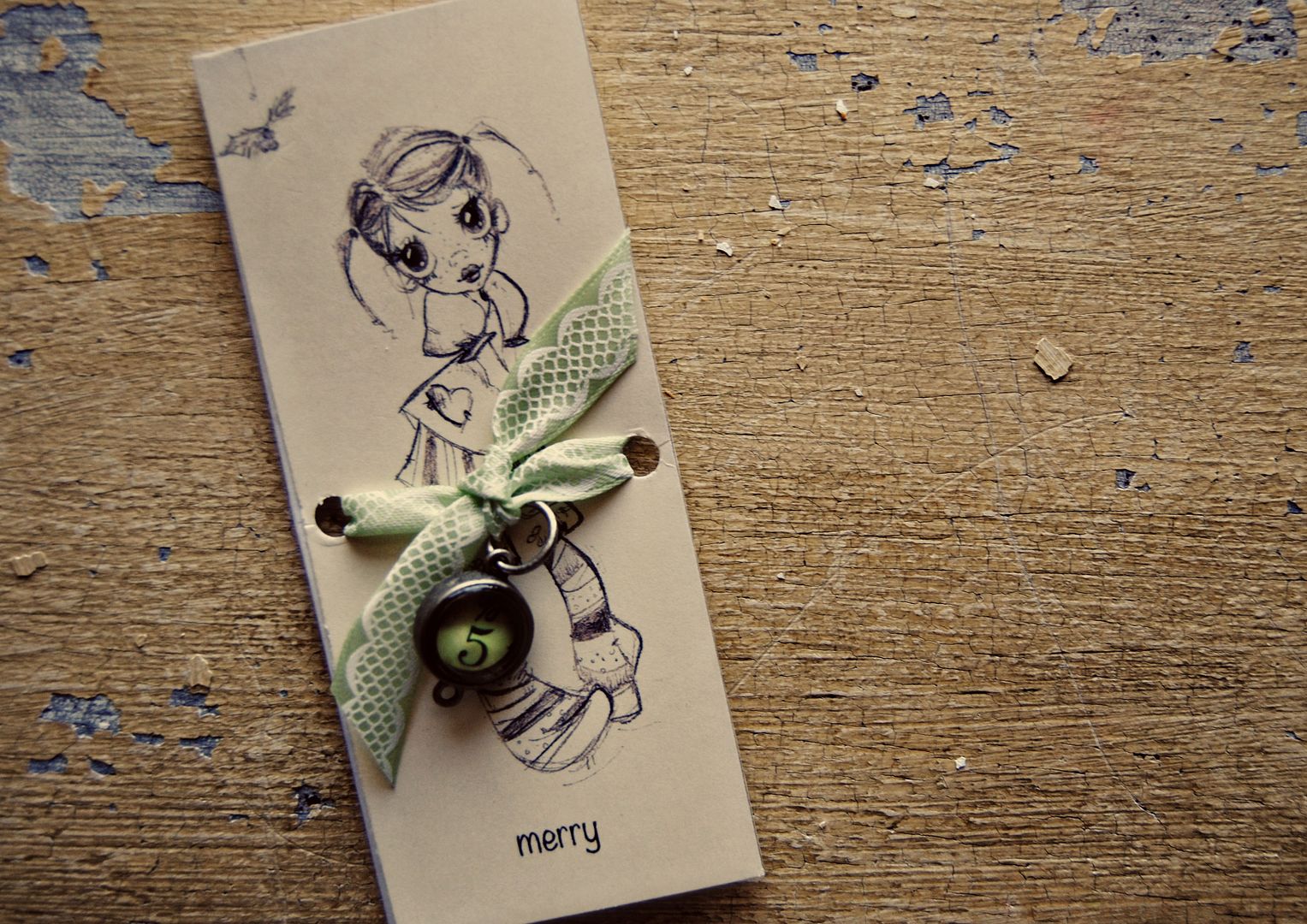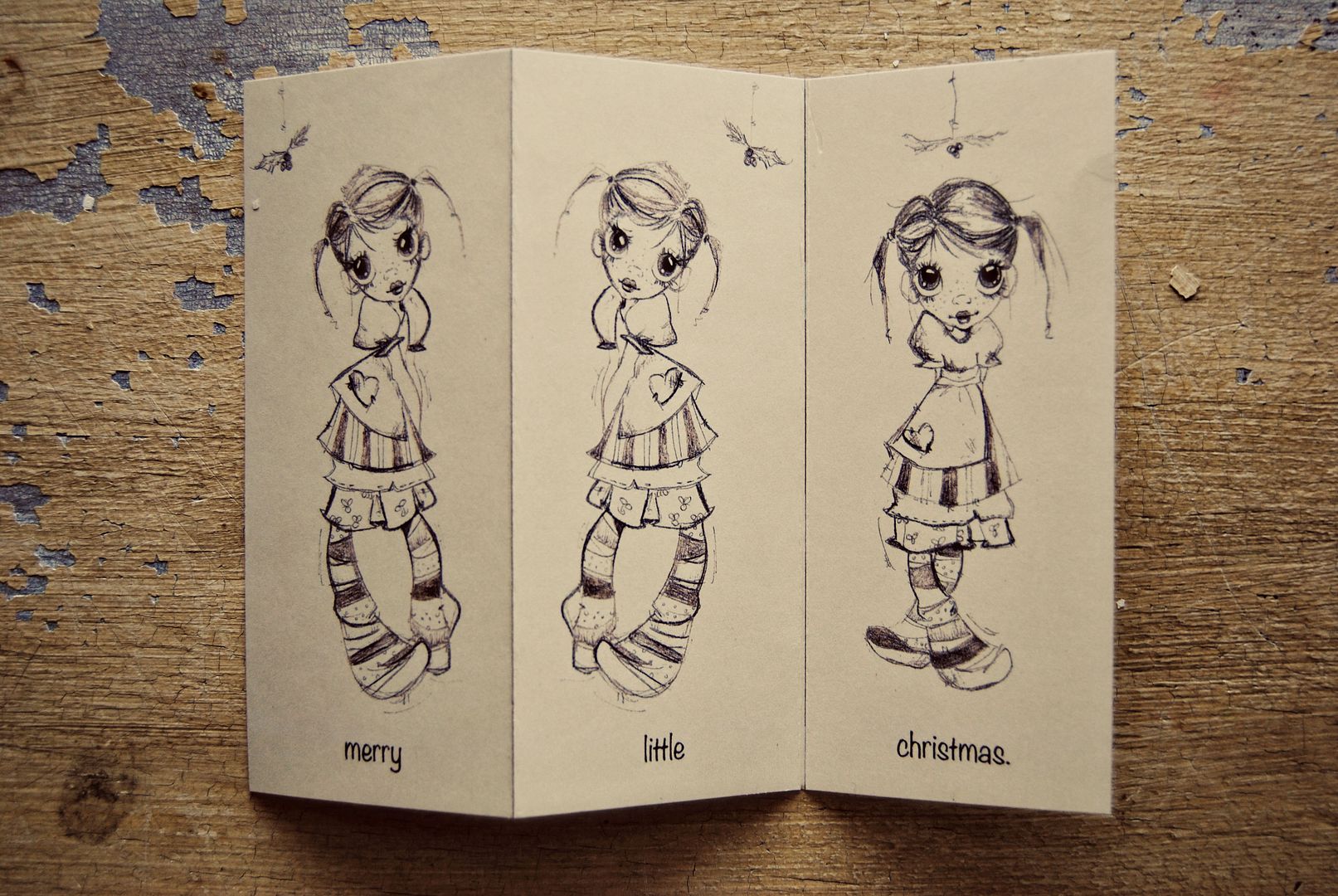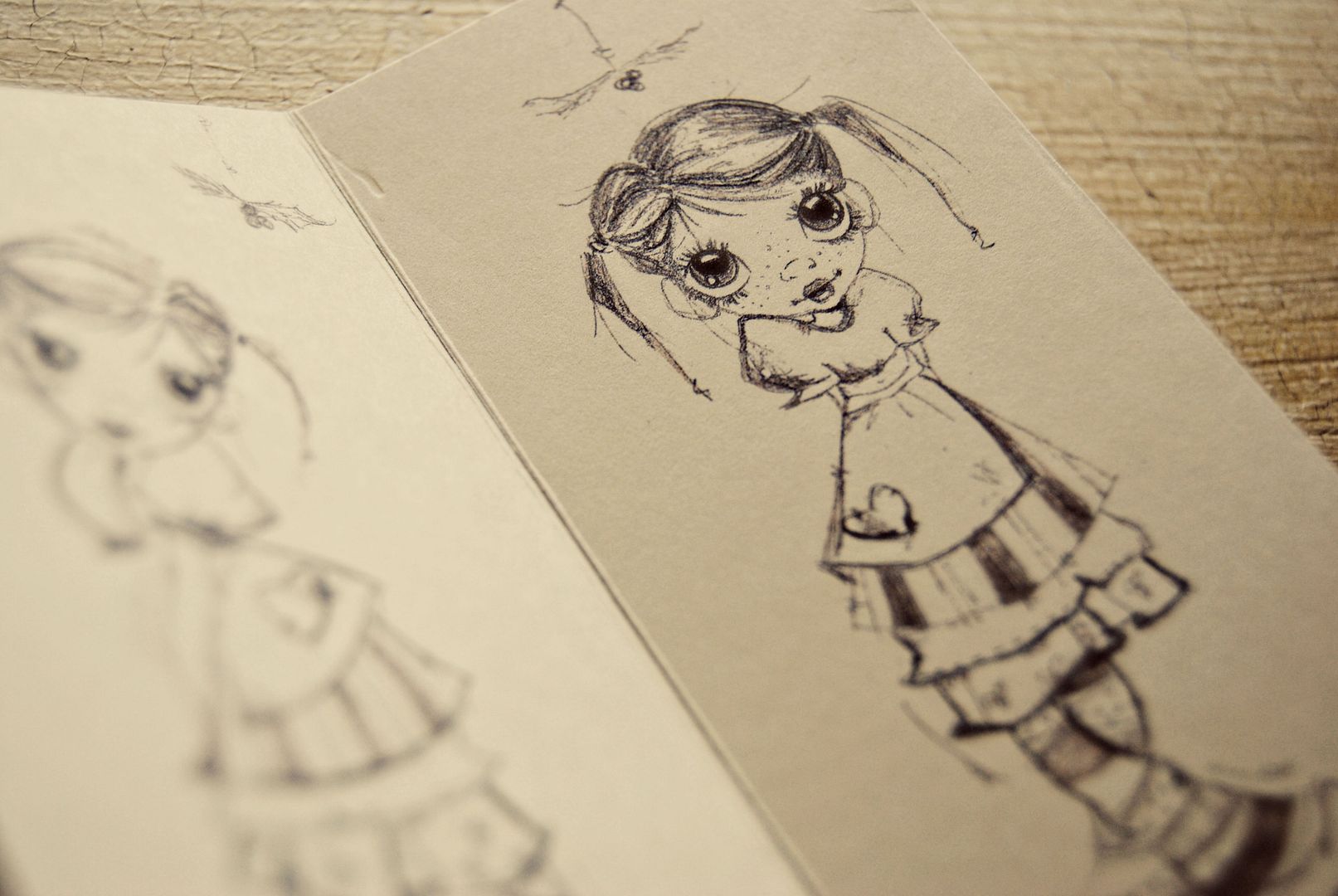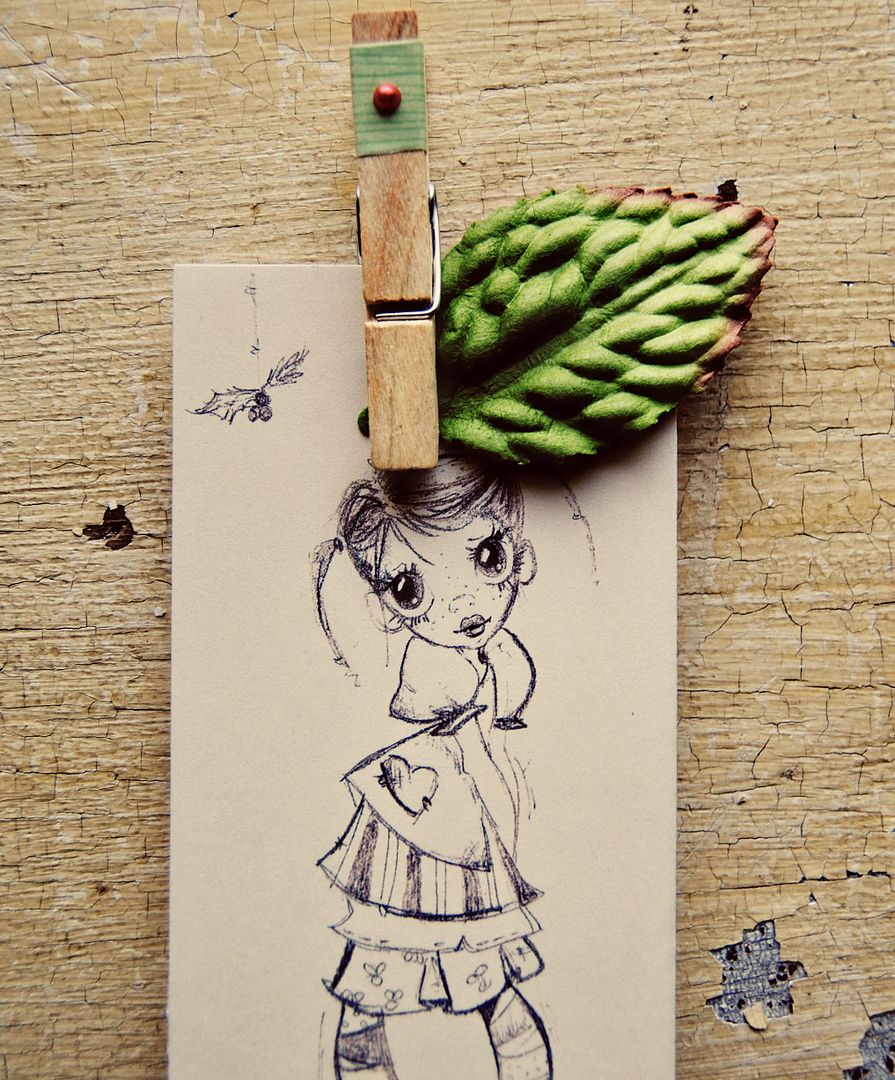 To print, I open the file and choose to print two 5x7" size cards on the same 11X8.5" paper.
After printing, cut the card to be 5" tall. The middle image is 2 1/8" wide. Cut the sides of the first and third images so that they measure 2 1/8" as well. Score along grey lines. Fold in mountain/valley folds.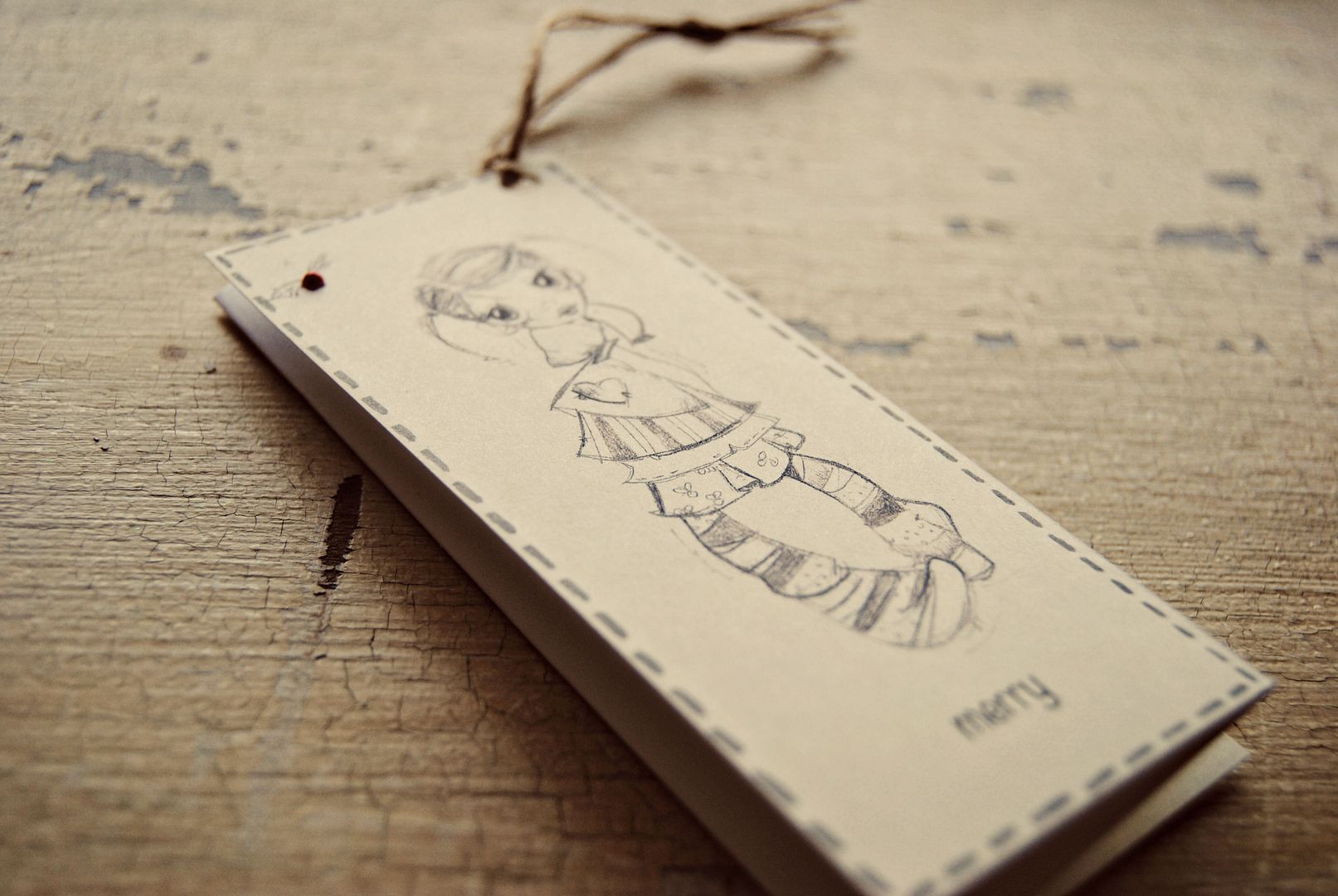 Have you ever been nervous to stand under a mistletoe?? This girl is, but eventually she puts herself center stage for anybody giving out Christmas kisses;). If you'd like to download the printable card, click the picture below.
**Please note: She may be used as a digi if you'd like to put her on a handmade card/craft instead. However, the printable card is MADE TO LOOK VINTAGEY AND I WILL NOT BE GIVIG IT OUT ANY DIFFERENTLY. (The image was drawn in pencil only, shaded, and the paper is speckled here and there...all intentional and not removable for download.) Please see above for printing/cutting/folding instructions.
I will also be re-opening my Etsy art shop after Christmas. The artwork available in the shop will be new and not available in digital form. So, everything will be unique...and most pieces customizable to your own color preferences for hair, eyes, skin tone, and clothing! I can't wait to open shop again-- I've been working on some really sweet new characters:). Here is a little sneak peek:)!...
And if you made it all the way down here:) before giving up on the reading:)...Kudos and a coupon to you!!:) (It is a CYBER MONDAY coupon...so it won't work till 12am Monday morning EST:)
For Monday only, receive 35% of your entire purchase of digi stamps from
my Etsy shop
and
a
NEW RELEASE DIGI for free
with any stamp purchase (one per customer:)! The free digi will be a surprise...so you will have to wait for your order email to see her:).
That should be some pretty good savings...so you might want to sneak in those digs on your list while they are cheap:)!...And this coming Friday will be my last release of stamps before Christmas...I will have a group of really sweet ones ready for purchase-- from princesses to Valentine's inspired girls, bookworms to fashion girls. A nice variety available to keep you all busy through holiday crafting!:)
Okay. Whew...I feel worn out from all those announcements:). Hope you weren't bored to death...I hope you come visit me on Monday...I wish I had a real store sometimes-- so you all could come in and order digs with me over coffee and muffins:)...Guess we will just have to make a coffee date over the computer:)...Till then,
HUGS
my friends!
Linking to Casey's Follower Fest today...If it is your first time over here, please say hello and leave your link so I can come visit you as well! Muah!x