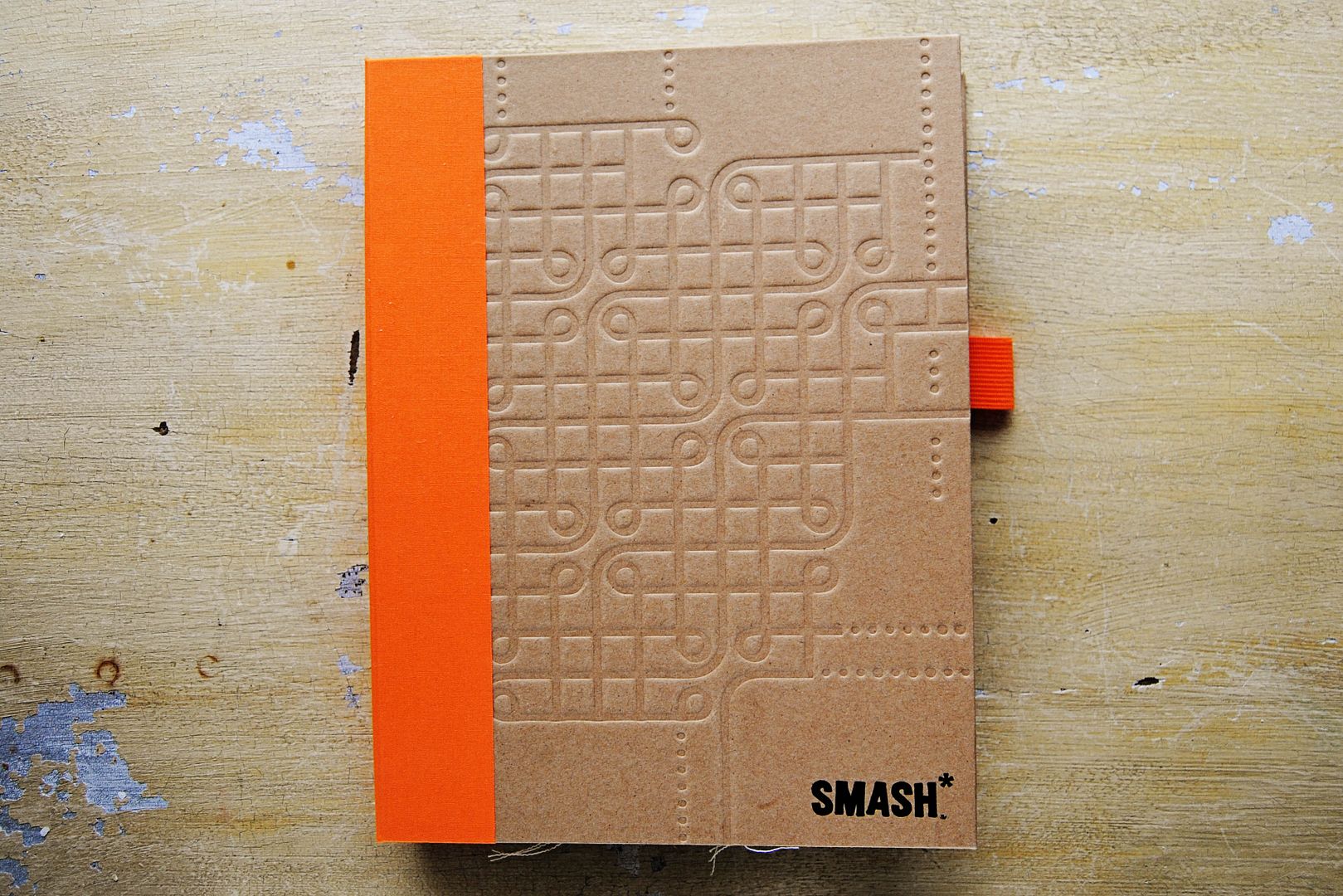 Hey, Smashers!!:)
Today is the day! Ready to hop along on our Smash Hop?
If this is your first stop, you are at the right place. After you have a peek at some of my Smash pages, jump on over to the
Sweet Ms. Kellie's blog
! She is the queen of Smashing and will surely have something awesome to show!
I thought a while about what to post today. I really, really love the Smash book concept. It isn't neat. Or tidy. No rules or suggested layouts. I like the freeness of it. I work much better when there are no lines to stay in; when my creativity can flow freely rather than be checked by what's expected.
So. Smashing for me is the idea of "no expectations." Just me. My thoughts. My supplies. And a blank page. Can't really get much better than that!
I have five Smash books. Two are just 'whatever' books. Two are untouched. (I just like knowing I have a couple in reserve.) And today I'm going to show you my "themed" book.
I chose to use my Orange Smash book as a song/lyrics book. Just smash about my favorite songs. Well, not just favorites, but songs that I love. Or need to listen to from time to time. A song that meant something years ago. Even a song that's totally and only for booty shaking:). Anything musical, really.
Here are a few of my pages.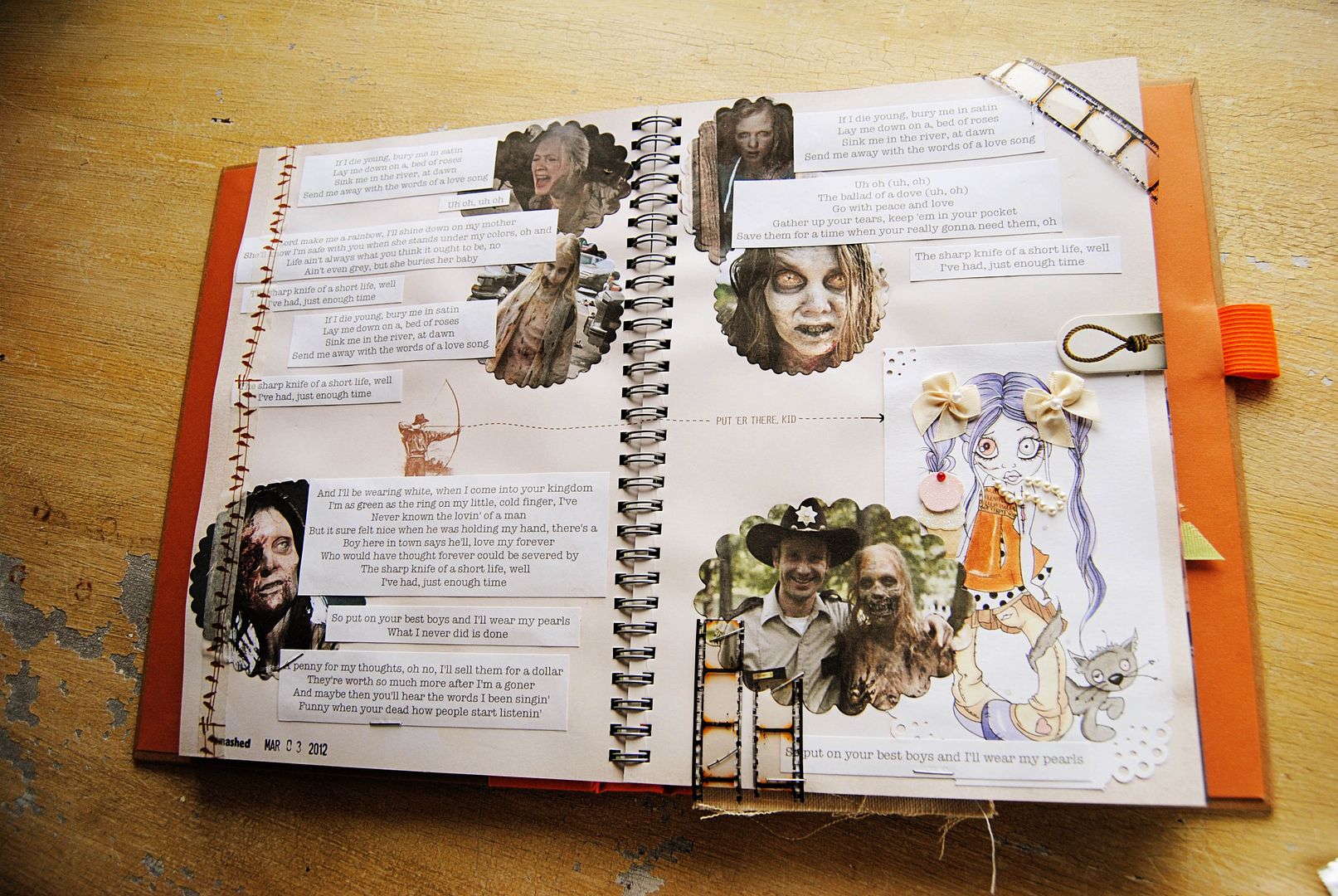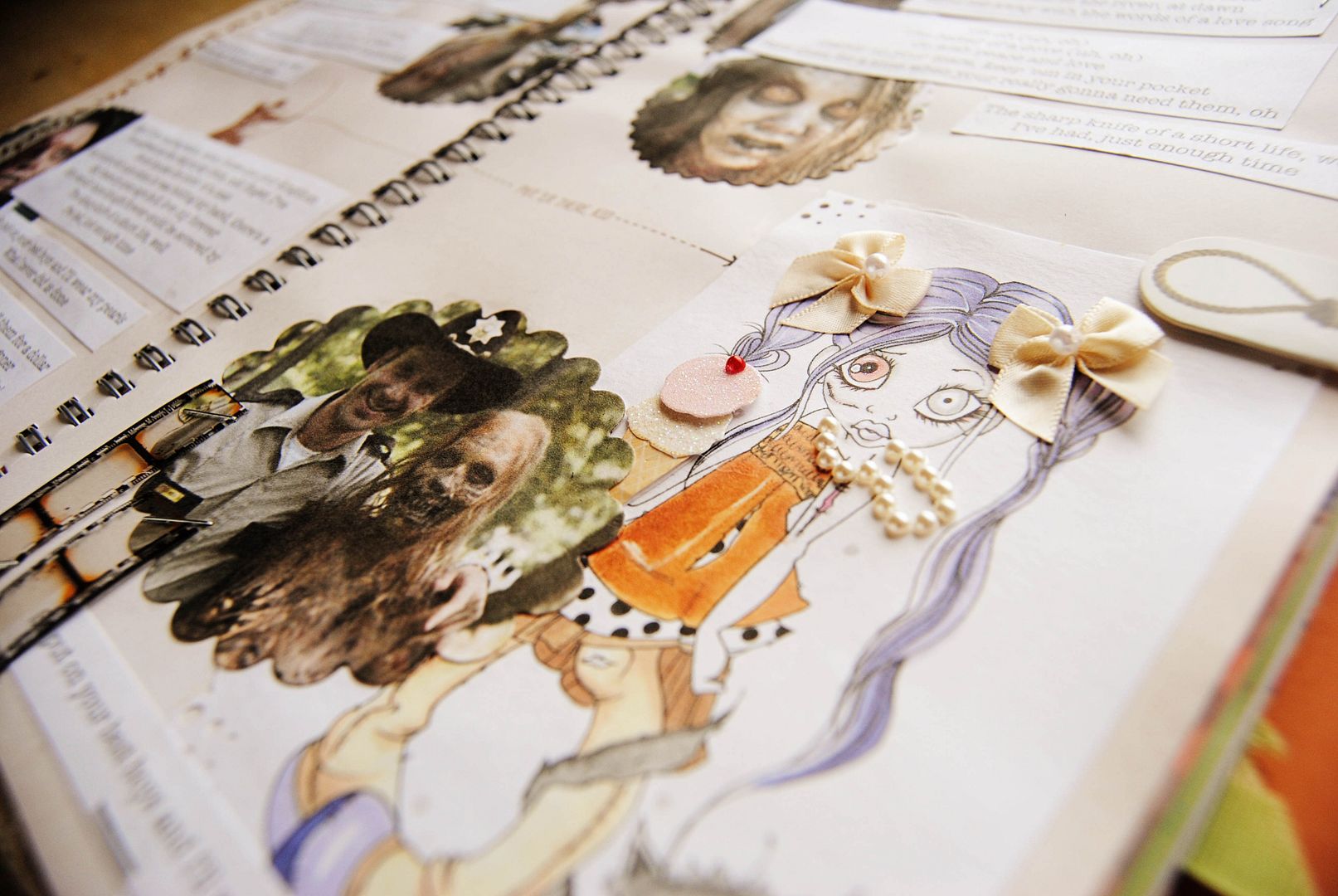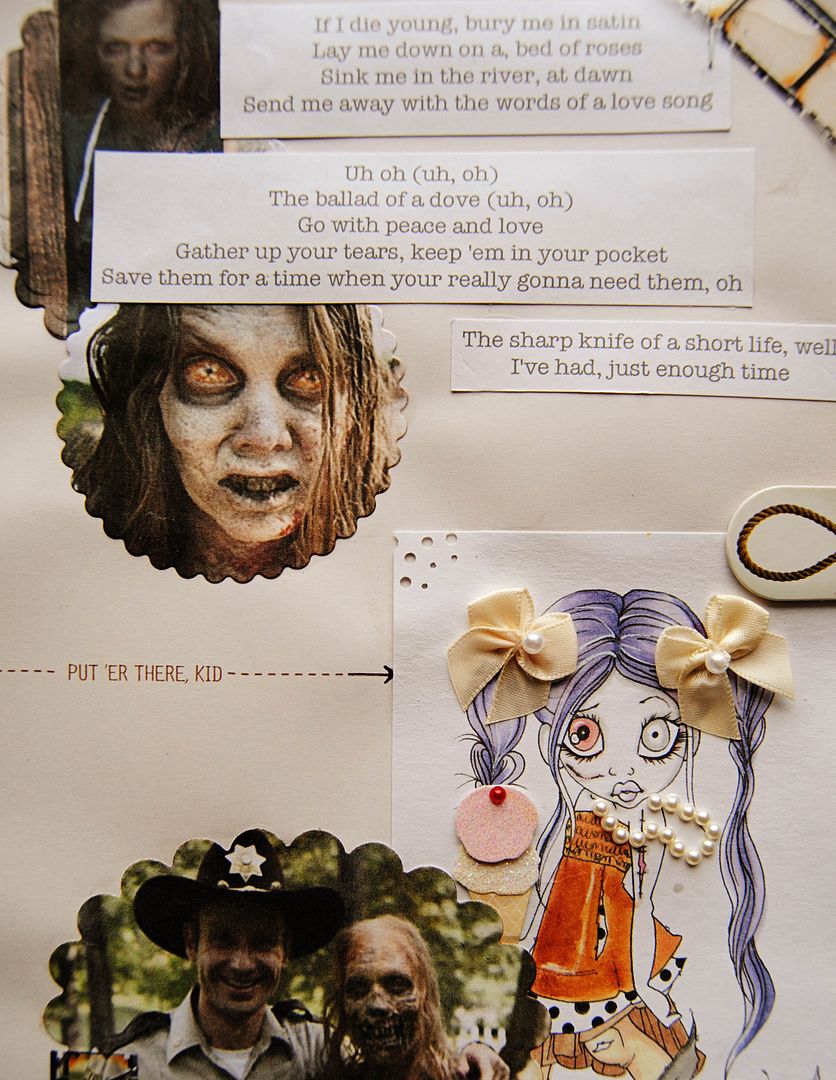 I love, love, love the song If I Die Young by The Band Perry. But I felt a little like, hmmm...do I really want to be that melancholy:) in my happy orange Smash book? So, I got a little cheeky. And used it for a zombie page.
I know. I really got to get off this zombie kick. But this idea let me use a beautiful (kinda morbid) song and turn it into something that makes me smile. Even giggle a bit.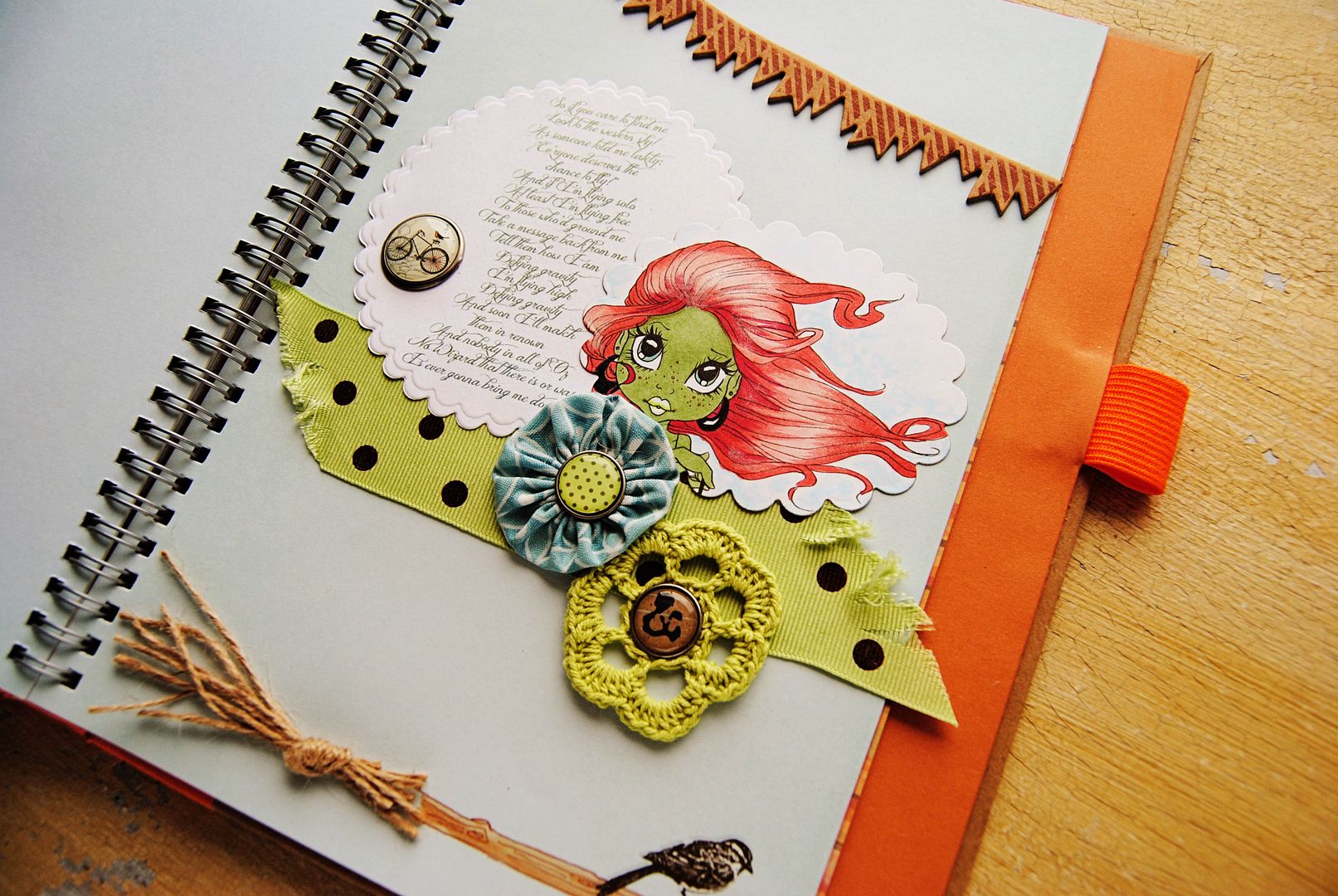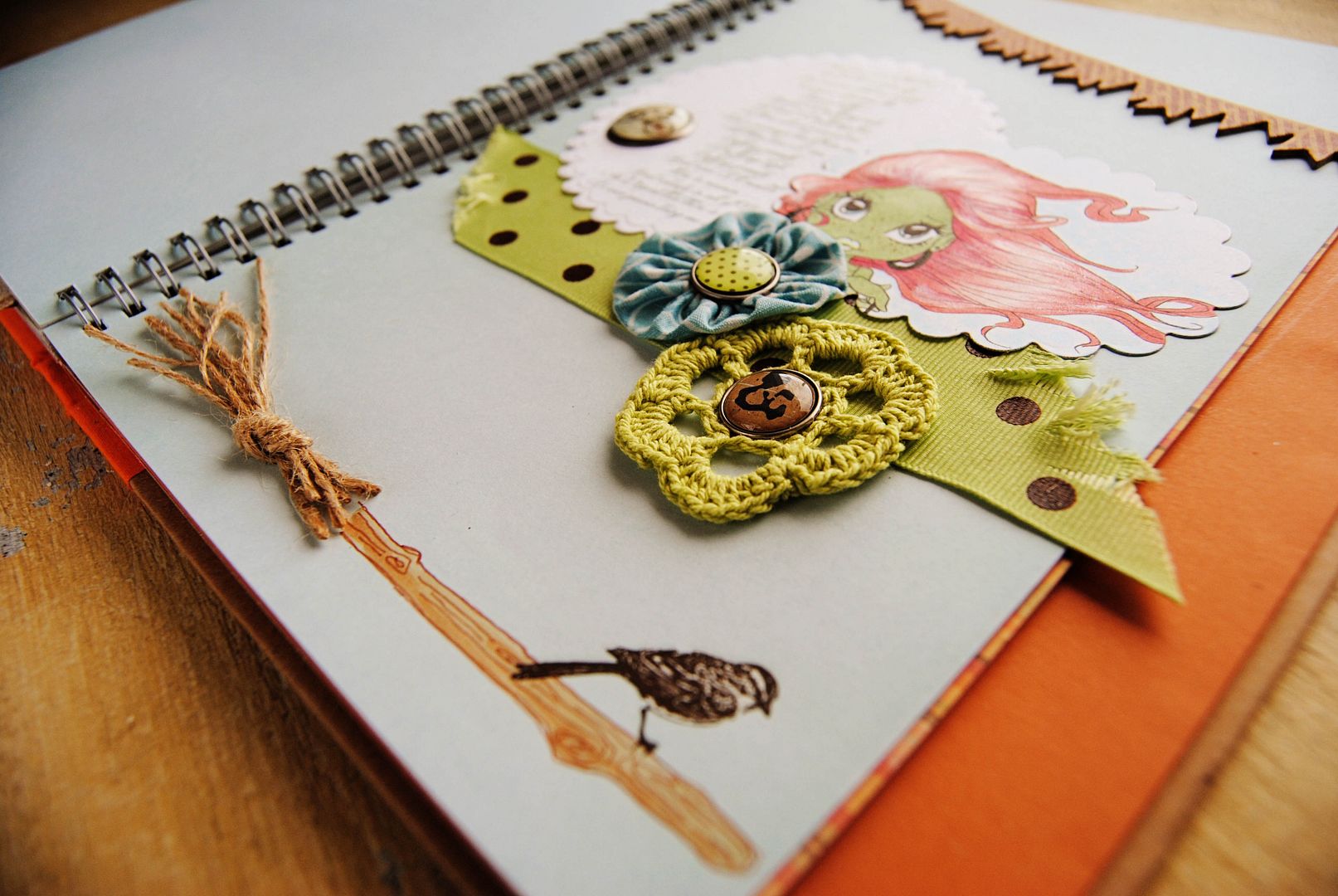 So here is my Defying Gravity page.
This one might be my favorite!
I LOVE the Wizard of Oz.
I have seen the Wicked musical twice.
And read the book.
And even have the name "Elphaba" intertwined into Niamh's name tattooed on my chest:).
So yes-- I'm just the *hugest* fan of the green chick.
I used the lyrics to my favorite part of the song, a handful of sweet embellishments, and my California Girl digi. (I always imagine the wicked witch as really pretty. And with red hair. )
I drew the broom stick and added the twine and rub-on birdie.
It came out better than I imagined. I like the simplicity of this page...and the idea of using just a few lines from a favorite song.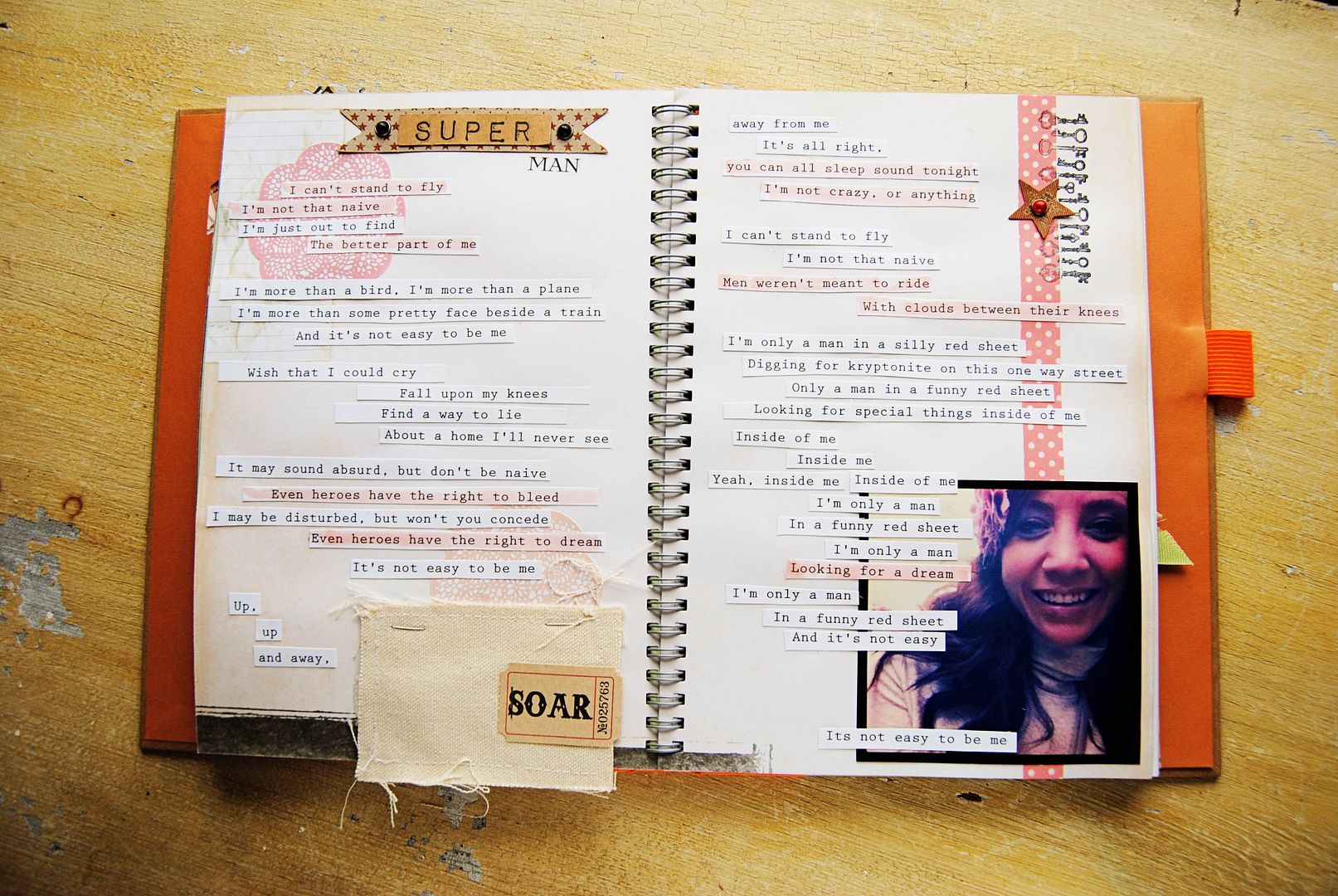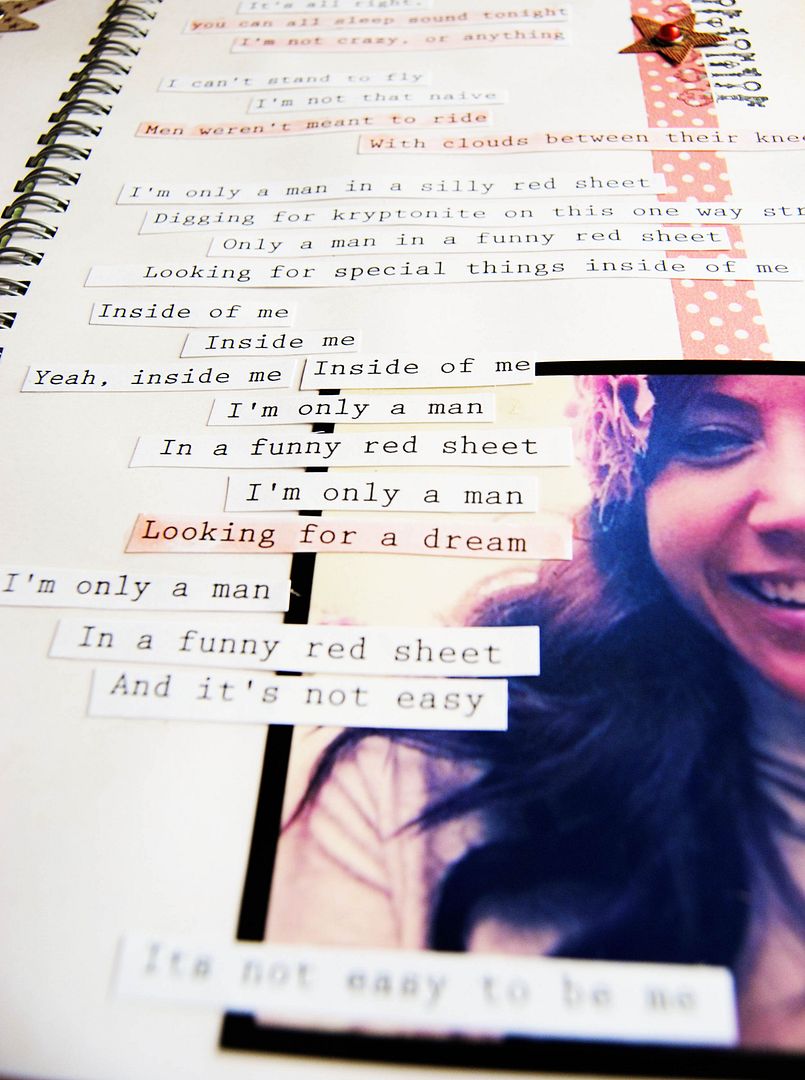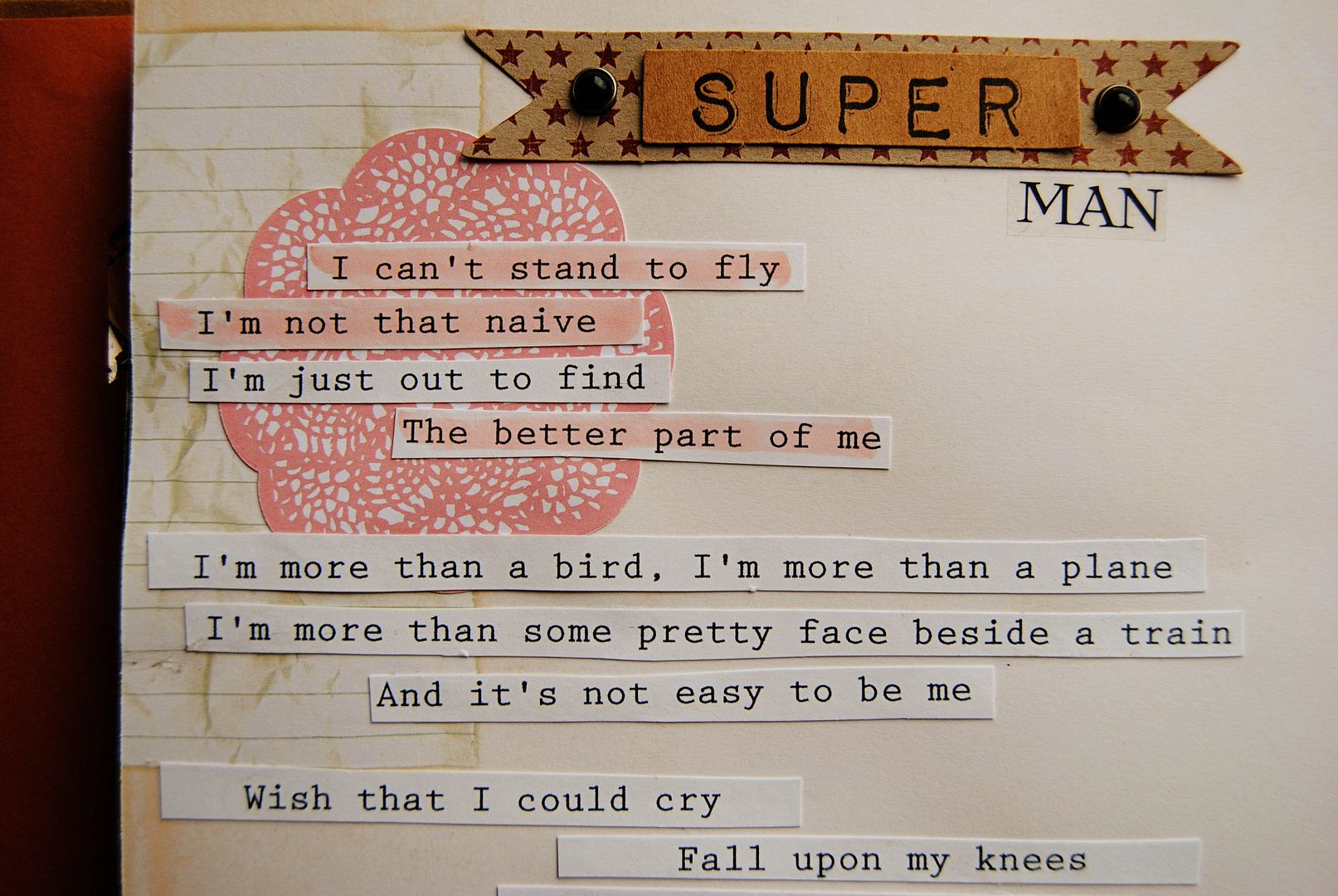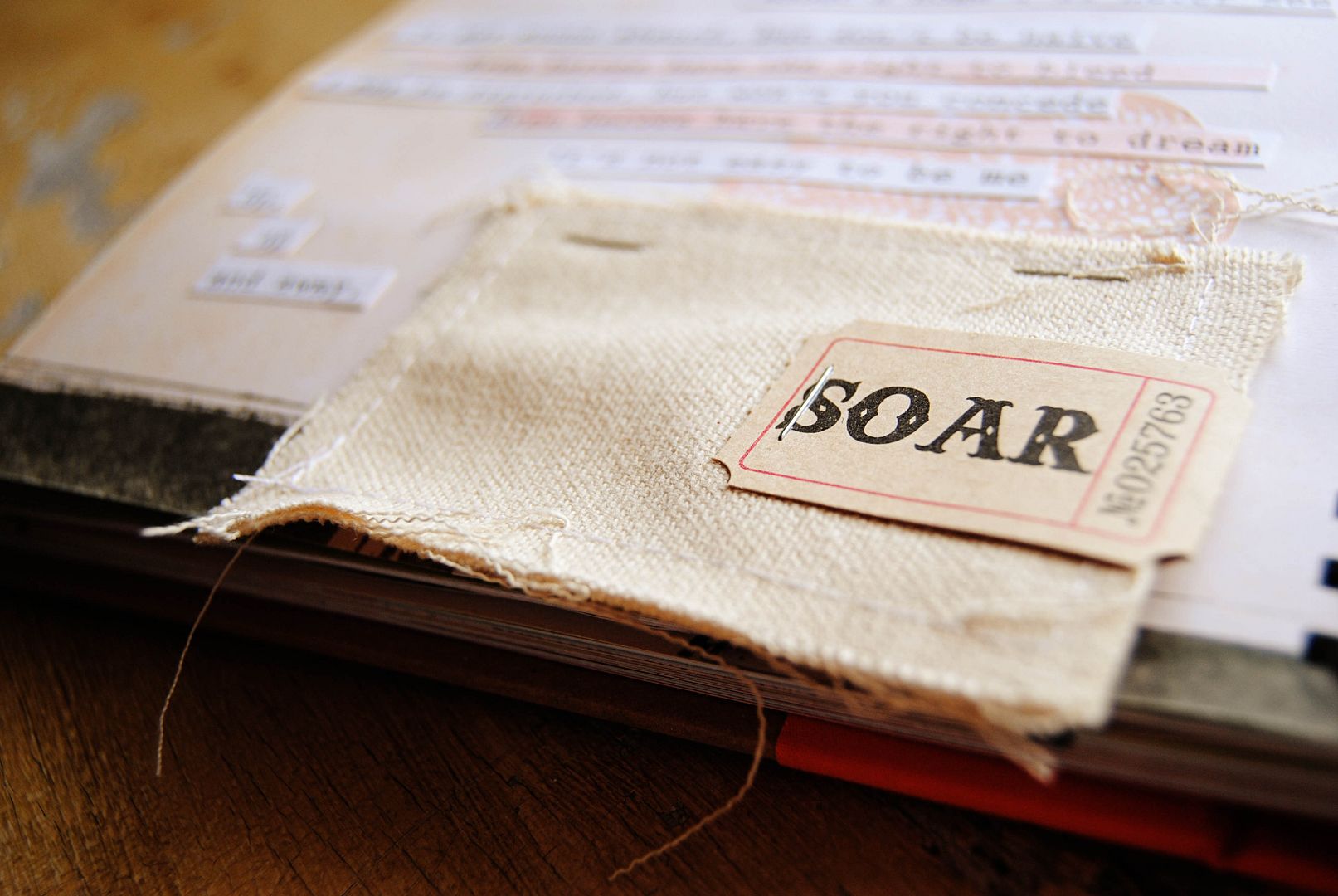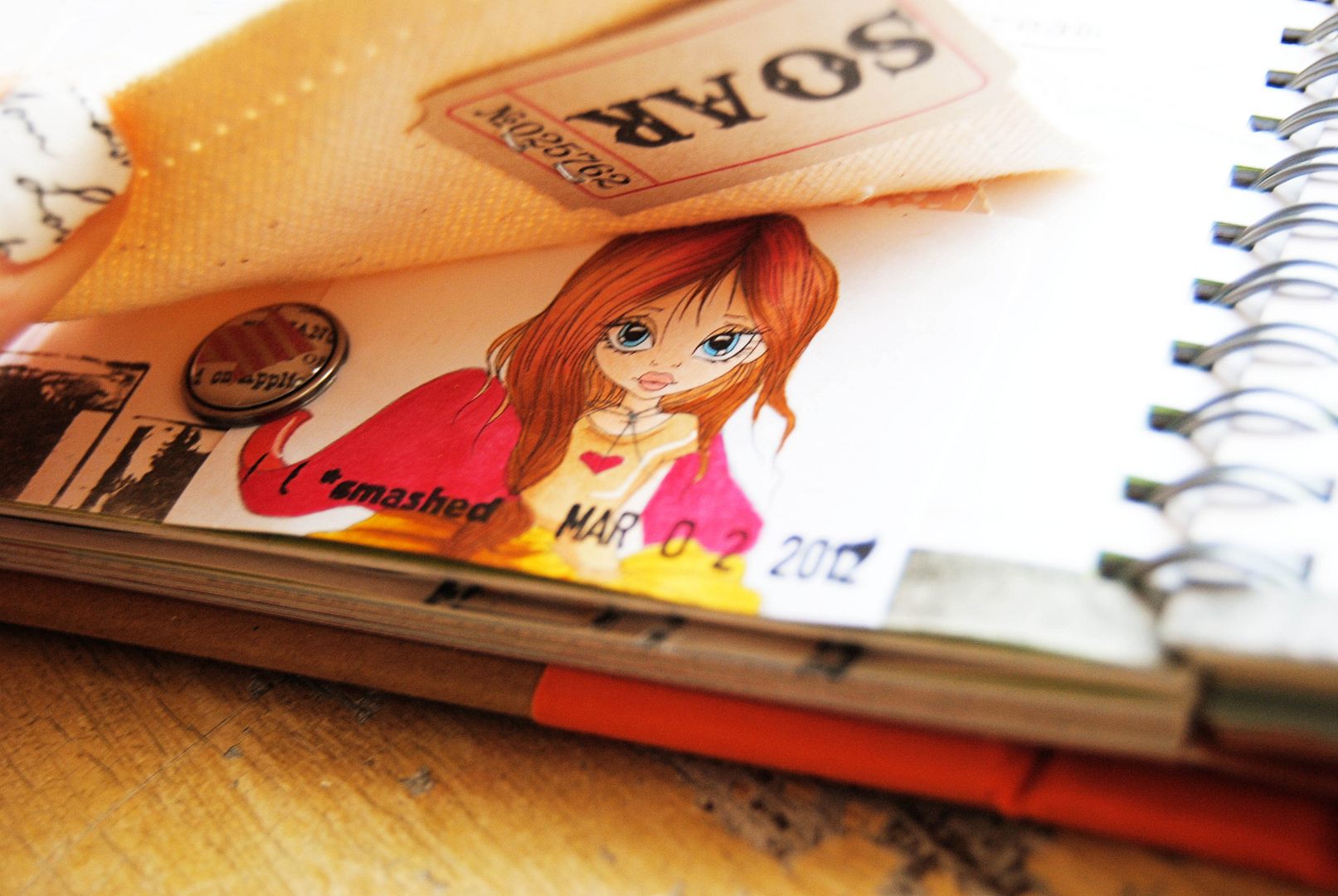 Above is my Superman page.
I loved this song when it first came out years ago...and just totally identified with the lyrics.
I added this little peek-a-boo canvas flap...just for fun. With a little superman girl underneath. Which I think goes great with the song. I'd like to try more pockets and flaps and pop-up elements in the future, because I like the little surprises underneath:).
So, how do I start?
It is pretty much the same every time.
I get an idea for a page.
Collect all the embellishments I want to use.
For this book, I print out the lyrics. And cut them into strips.
Then I rearrange everything on the page.
Sometimes a couple times.
Most times, a BUNCH of times! Get an idea for what looks best.
And then start gluing down.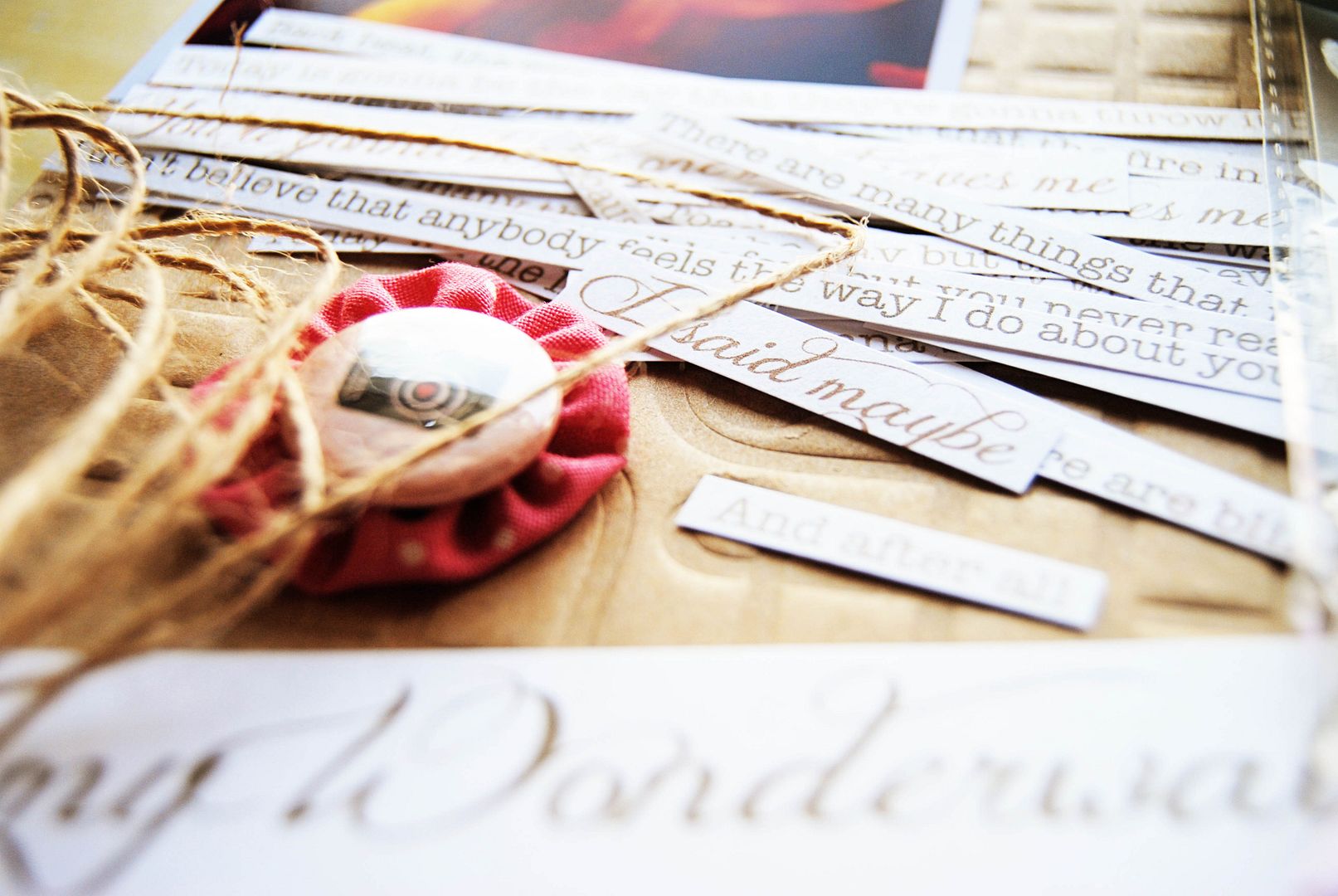 My final page is the song Wonderwall by Oasis.
If I could go back in time, I'd choose this song as our wedding dance song. It is just impossible for me not to think of Phil when I listen to it.
I wanted to make the page pretty and whimsical.
There you have it. My themed Smash book:). I like the idea of having a couple themed books...so now I just need to decide what to focus on in my green book!
Now for some goodies:). I have a fun Smash package for one lucky girl...
Here is what you'll need to do to enter!
(closes end of the day Friday, March 9th)
1.
Link up your own Smash Book post.
(If you don't have a Smash book, it is okay. Link up a
similar journaling type project.)
2.
You must be a
*f
ollower*
of my blog.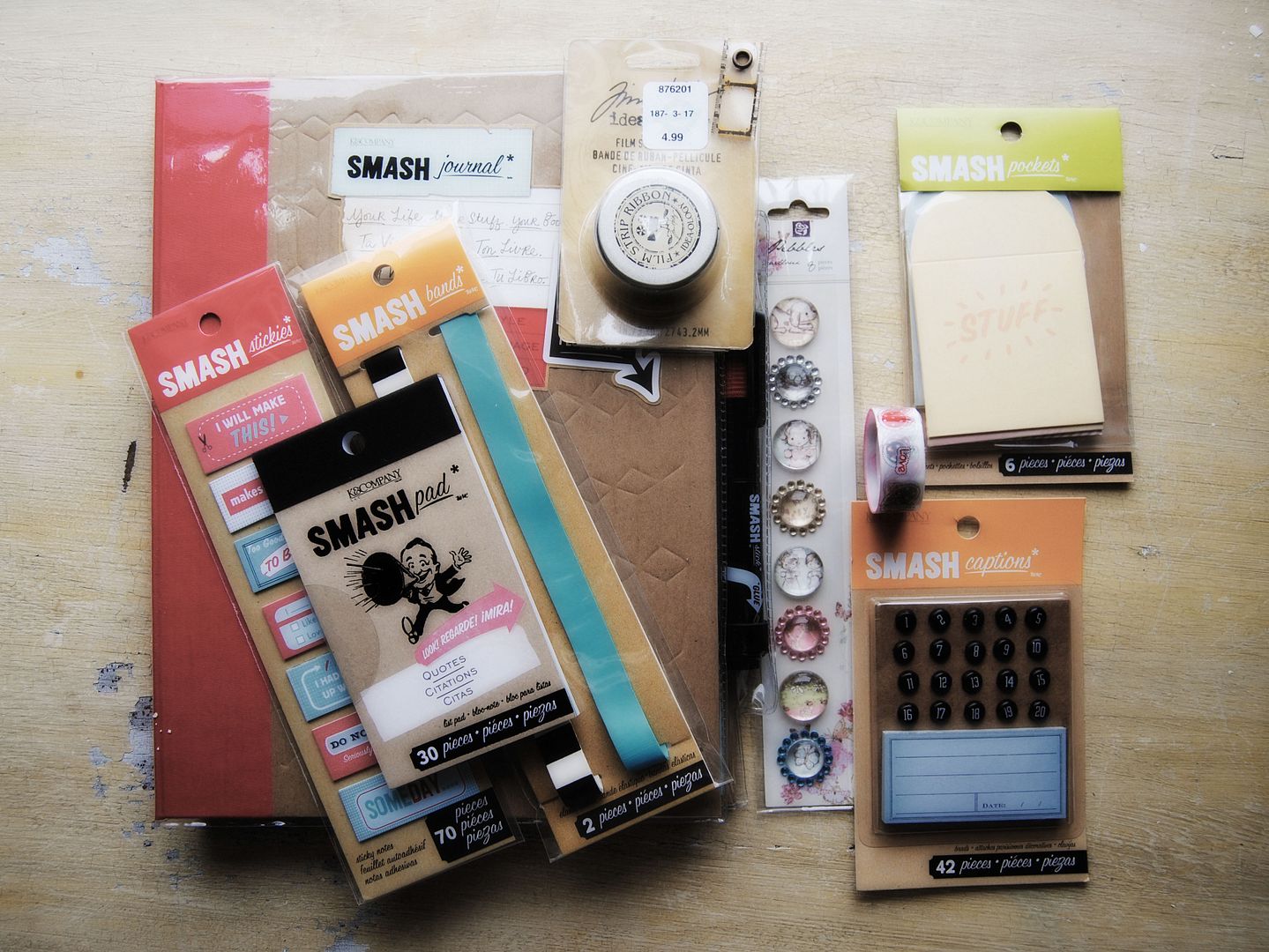 The Red book is my favorite:). And I've added a few fun extras...perfect to get your Smash on:)!
*(you can find a selection of Smash products
here
...in case you want to do a little shopping:)*
There will be more fun prizes as you move along the hop...and maybe even a couple new digis to win! (They are not in my shop currently.)
and don't forget to come back and link up your Smash post!!