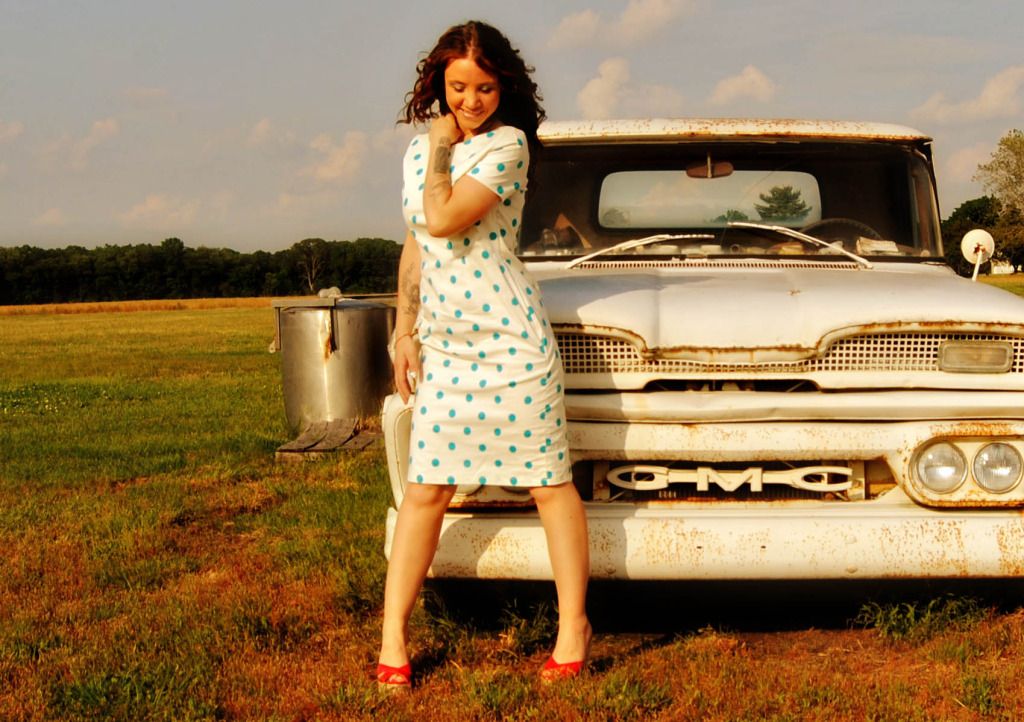 I've loved
Shabby Apple
dresses from afar for a while now. I've popped in their site to peek at the prettiness more than I care to admit:). In my defense, it really is a lovely place to online shop. This is my first purchase. I caught the '
Joyride
' dress on sale (still is!). And it is the perfect church dress. Also, it does make a pretty fine joyride dress. There is nothing like a drive in a beat up truck wearing a pretty dress:).
Nothing.
This particular truck is not my truck.
However, I have beat the heck out of the truck we own.
Ran over a light pole.
Hit a barn.
Yeah.
I have (accidentally but adequately) beat it up.
So, I have the proper means for said joyride:).
Anyways, Shabby Apple is offering one of you lucky girls a $50 gift card to their online shop! EEP!! I am seriously considering going back and snagging the sister dress to this one,
Going Steady
. But I really like
this one
and
this one
, too! Choices, choices!:):)
Here is how to enter to win:
*Hop on over to the
Shabby Apple shop
and pick a favorite. Then leave me a comment with your pick!
*Please be a follower of my blog.
There are three ways to enter, but you *must* Like the Shabby Apple FB page to be considered for the gift card. Please leave a separate comment for each action to maximize your chances of winning!
Open until Monday, May 21. *Open to US residents only.
And just so no one gets left out, you can use code:
SATURATEDCANARY10OFF
at checkout for 10% off your Shabby Apple orders for this month!
Good luck to everyone!
This is a beautiful clothing company!
Their pieces are well made and modest. And so, so pretty!
Happy Thursday!
xx